Please browse the links below :
Designing With Self adhesive Lead Strip
Introduction
Following 'polite' customer pressure, in 1998 we set up our leading department - The Studio.
Today The Studio is an important part of our business. Run by our two skilled lead artists, we offer clients a fast, personal and very high quality service.
We find that clients seem to particularly like the bespoke designs our staff create. It is common for potential clients to contact our office 'looking for some inspiration'. A brief meeting with our design girls is the normal step that then opens their imagination to the possibilities of lead design.
We have had clients come to us with a simple photo or perhaps a piece of jewelry as a starting point of a design. From these humble beginnings the girls in The Studio work hand-in-hand with the client to create their bespoke piece of glass/lead art.
Over many years we have generated a significant back catalogue which now allows us to present clients with images which they might choose, or at least draw inspiration from, for their own piece. Our back catalogue is held on CAD computer files which can easily be remolded to suite individual needs. Many are simple, some are suitable for combination panes and all can be fully edited.
Designing With Self Adhesive Lead Strip
The corner stone to our design work in The Studio is our Lead Strip. We only use the fines Lead strip available, which has a super modified Acrylic adhesive backing - tried and tested for over 15 years in the glass industry. The lead itself is made of 99.5% pure lead and a combination of selected alloys. The lead strip is designed for permanent application to decorative interior or exterior glass surfaces in both single and double glazed unit applications.
Our artists use a combination of three colours standard lead, pewter lead and brass effect:

They also carry a selection of widths -3mm (1/8in), 4mm (3/16in), 6mm (1/4in) and 9mm (3/8in) 12mm (1/2in) and styles - flat and oval.
Combining these they can create just the right effects.
It is important to remember that lead is a natural product as is designed to 'weather' - please click here to see our data sheet on the lead aging process.
Pewter and Brass effect leads have a satin weatherproof polymer coating which not only produce the respective colour effects of each but help to avoid problems associated with the aging process.
Designing With Colour
Colour and textures are important parts of any design. Our design girls stock polyester films in all the colours a client might imagine. We have many transparent films and streaky films as below: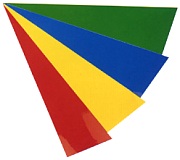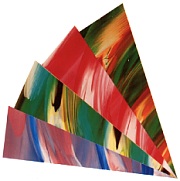 We also have many textured and grained effect films which can be combined to give perfect effects.
The films have a paper backing, which when removed exposes the bonding surface which is activated by moisture. The films are applied with squeegee pressure and all edges are encased with lead strip to prevent lifting.
The film manufacturers guarantee their product for 'colour fade' over 10 years, we pass this on with all lead designs we produce.

Designing With Bevel Clusters
Our designers can incorporate glass bevels into any design. We use hand made bevels pieces from 5mm float glass. Bevels clusters are bonded to glass panes using a clear UV cured adhesive. Below is an example of two possible designs: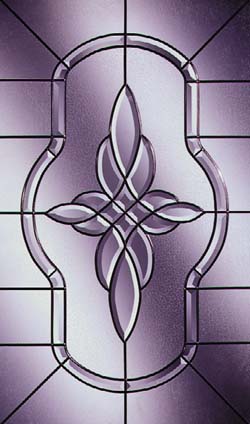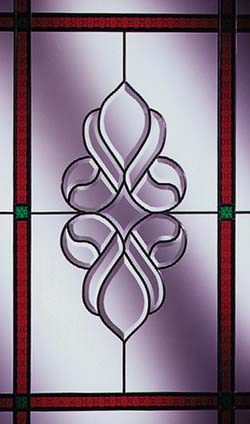 Traditional Leaded Panels
The girls in The Studio have, for some time, been constructing authentic lead lights.
We stock pieces of original stained glass in various colours and textures. We use traditional 'lead came' to form the structure of a panel, secured by hand welded joints. The glass panes are glazed into the structure as it is constructed with traditional stained glass cement. Reinforcements are incorporated as necessary.
We have designed new panels for clients, but most of our traditional work is copying original panels. We also make efforts to rebuild damaged leaded panels, but this is normally a false economy as the aging process often is the cause of the damage itself, and prevents a satisfactory rebuild. Our designers will always assess a clients requirement, ,and provide costings, prior to commencing any work.
119-125 Bridge Road, Leicester LE5 3QP T: 0800 1694357 F: 0116 2460462 E: enquiries@leicesterglass.co.uk