Please Click A Link Below:
MAKING FLAT GLASS BY THE FLOAT PROCESS

The float process - invented by Sir Alastair Pilkington in 1952, is now used to make 90% of the worlds window glass. This process allows the manufacture of clear, tinted and coated glass for buildings, and clear and tinted glass for vehicles. There are around 260 float plants worldwide with a combined output of about 800,000 tonnes of glass a week. A float plant, which operates nonstop for between 11-15 years, makes around 6000 kilometers of glass a year in thicknesses of 0.4mm to 25mm and in widths up to 3 meters.

A float line can be nearly half a kilometer long. Raw materials enter at one end. From the other, plates of glass emerge, cut precisely to specification, at rates as high as 6,000 tonnes a week. In between lie six highly integrated stages.

Stage 1: Melting and refining
Fine-grained ingredients including Sand, Soda Ash, Limestone, Dolomite and Salt Cake, closely controlled for quality, are mixed to make a batch, which flows into the furnace which is heated to 1500°C. Float today makes glass of near optical quality. Several processes - melting, refining, homogenising - take place simultaneously in the 2,000 tonnes of molten glass in the furnace. They occur in separate zones in a complex glass flow driven by high temperatures. It adds up to a continuous melting process, lasting as long as 50 hours, that delivers glass at 1,100°C, free from inclusions and bubbles, smoothly and continuously to the float bath. The melting process is key to glass quality; and compositions can be modified to change the properties of the finished product.

Stage 2: Float bath
Glass from the melter flows gently over a refractory spout on to the mirror-like surface of molten tin,
starting at 1,100°C and leaving the float bath as a solid ribbon at 600°C. The principle of float glass is unchanged from the 1950s. But the product has changed dramatically: from a single equilibrium
thickness of 6.8mm to a range from sub-millimetre to 25mm; from a ribbon frequently marred by
inclusions, bubbles and striations to almost optical perfection. Float delivers what is known as fire
finish, with the luster of new chinaware.

Stage 3: Coating
Coatings that make profound changes in optical properties can be applied by advanced high temperature technology to the cooling ribbon of glass. On-line chemical vapor deposition (CVD) of coatings is the most significant advance in the float process since it was invented. CVD can be used to lay down a variety of coatings, less than a micron thick, to reflect visible and infrared wavelengths, for instance. Multiple coatings can be deposited in the few seconds available as the glass ribbon flows beneath the coaters. Further development of the CVD process may well replace changes in composition as the principal way of varying the optical properties of float glass.

Stage 4: Annealing
Despite the tranquillity with which float glass is formed, considerable stresses are developed in the ribbon as it cools. Too much stress and the glass will break beneath the cutter. To relieve these stresses the ribbon undergoes heat-treatment in a long furnace known as a lehr. Temperatures are closely controlled both along and across the rib.

Stage 5: Inspection
The float process is renowned for making perfectly flat, flaw-free glass. But to ensure the highest quality, inspection takes place at every stage. Occasionally a bubble is not removed during refining, a sand grain refuses to melt, a tremor in the tin puts ripples into the glass ribbon. Automated on-line inspection does two things. It reveals process faults upstream that can be corrected. And it enables computers downstream to steer cutters round flaws. Inspection technology now allows more than 100 million measurements a second to be made across the ribbon, locating flaws the unaided eye would be unable to see. The data drives 'intelligent' cutters, further improving product quality to the customer.

Stage 6: Cutting to order
Diamond wheels trim off selvedge - stressed edges - and cut the ribbon to size dictated by computer. Float glass is sold by the square meter. Computers translate customers' requirements into patterns of cuts designed to minimise wastage.
Click to return to technical index
The Rolled Glass Process
The rolling process is used for the manufacture of patterned flat glass and wired glass. A continuous stream of molten glass is poured between water-cooled rollers.

Patterned glass is made in a single pass process in which glass flows to the rollers at a temperature of about 1050ºC. The bottom cast iron or stainless steel roller is engraved with the negative of the pattern; the top roller is smooth. Thickness is controlled by adjustment of the gap between the rollers. The ribbon leaves the rollers at about 850ºC and is supported over a series of water-cooled steel rollers to the annealing lehr. After annealing the glass is cut to size.

Wired glass is made in a double pass process. The process uses two independently driven pairs of water cooled forming rollers each fed with a separate flow of molten glass from a common melting furnace. The first pair of rollers produces a continuous ribbon of glass, half the thickness of the end product. This is overlaid with a wire mesh. A second feed of glass, to give a ribbon the same thickness as the first, is then added and, with the wire mesh "sandwiched", the ribbon passes through the second pair of rollers, which form the final ribbon of wired glass. After annealing, the ribbon is cut by special cutting and snapping arrangements.
Window Energy Rating (WER)
Window Energy Rating was formally introduced to Part L of the Building Regulations in 2006 as a method of compliance for domestic replacement windows. It introduced the concept of giving an overall energy rating from A (Best) to G (Worst). The British Fenestration Rating Council (BFRC) operates the UK's national system for rating the energy efficiency of windows. Once tested, fabricators are able to sell their windows with enegry efficiency labels similar to below:

To date a pass of documanet L - as outlined below, requires an E rating. However, there are revisions to Document L due for publication in April 2010 which are set to be adopted as required practice in October 2010. These revisions are rumoured to require a C rating as a pass.
Leicester Glass already has the ability to produce D G Units which have been tested to an A rating when coupled to Season Master's Synseal Shield windows. We believe that this is what the market will demand and expect. Whilst awaiting conformation of the new requirements, we are looking very closely into all the options so that we will be best placed to offer our clients C to A rated components and windows to the highest specification, most economically.
The Government's Approved Document L -
How it's going to effect Us and You.

You may well have read in the trade press that our industry has had further restrictions placed upon it by the British Government. Our industry was awash with rumors as to what the new regulations may mean. Below are our interpretations of the thinking behind the changes, the regulations themselves and how you and we are affected.
Brief History
Our Government has made it one of their key goals to reduce Carbon emissions significantly by the year 2010. They set up committees to investigate all possible ways of saving on fuel which will reduce our national Carbon output. One area they have targeted is heat loss from houses and commercial buildings. A direct result of this was the publication, on 31st October 2001, of the Government's Approved Document L which became law in April 2002. In two parts, ADL1 (referring to domestic properties) and ADL2 (all other types of building) extend Building Regulations to cover replacement window installations from April 2002.

The Regulations
Document L requires the installer to consider heat loss when fitting, new and replacement, whole window / door assemblies. All materials used in the window or door are given 'U' values, which correspond to their heat transfer levels. Basically, the lower the 'U' value the better the heat saving and therefore carbon saving.
The new regulations include complicated calculation methods to work out 'U' values. To keep it simple for us in the glass trade, the window and door industry generally need to concentrate on attaining a 'U' value of no higher than 2.0 for Wood & UPVC and 2.2 for Metal.
There are to be some important areas of exemption in the first phase of implementation:
Only complete frame assemblies will initially be covered by the regulations. Replacement of broken panes of glass can be completed on a 'like for like' (or better) basis.
Conservatories are not included in the regulations providing they do not have heating and are separated from the main building i.e.. Have dividing doors.
Trickle ventilation and some other items of furniture, such as cat-flaps are exempt.
Shops, historic buildings and buildings in conservation areas are also exempt.

The regulations became law on April 1st 2002. The Glass and Glazing Federation negotiated an extension until July 1st 2002 for work already commissioned before April 1st. After these dates, an installer must by law comply with all parts of Document L.
Compliance will be scrutinised by the Local Authority Building Control Departments. Any installer must gain Local Authority approval to carry out an installation. Building Control Departments will need to be assured that the relevant U values have been achieved.
The Glass and Glazing Federation, with others, run a scheme of self-certification. Under the name of FENSA this scheme offers registration with Local Authority Building Control and so very significantly lower the cost of compliance. However, to be a member of the scheme any installer has to show, among other things:

Sufficient Insurance cover for himself and third party liability
Comprehensive Health and Safety documentation
Comprehensive training records

Installers of complete, new or replacement, frames must register or go though the local authority for each contract. The penalty for any installation shown not to comply is set to be in the region of £3,000 per installation with an addition of £50 per day until conformity is achieved.
Leicester Glass Company Limited are a FENSA registered company.
The Implications
In real terms, the regulations mean that new installations have to be much more heat efficient than the average installation at present. No ordinary 4mm unit fitted into any system will comply directly with the new regulations (though there are exceptions to this). The easiest way to achieve the new U values, will be to use double glazed sealed units with be a minimum of one pane float glass, one pane Pilkington K, with a spacer of at least 12mm and these must be Kite Marked as a quality assurance guarantee.

The Law and Us
Leicester Glass is primarily a supplier of materials to the Fenestration market. For some time we have been manufacturing sealed units with the option of Pilkington K. We have installed new Pilkington K washing facilities to aid our handling of this notoriously 'awkward to handle' glass type. In addition Leicester Glass Company Limited has invested considerable time and money attaining a British Standard Kite Mark.
For the 'glass only' replacement markets Leicester Glass Company Limited continues to offer single glazed panes and double-glazed sealed units with smaller cavities than 12mm and with or without Pilkington K. However we will be happy to advise clients to prevent them falling short of the new regulations.
In association with Season Master Windows Limited we will continue to supply UPVC frames. Our systems extruder, Synseal, have assured us that their products when used with sealed units incorporating Pilkington K will comply with Document L. Secondary glazing to an existing frame is exempt from Document L and offers a way of lowering U values to existing windows.
We were one of the 'first phase' of companies to gain a FENSA registration.
As suppliers of materials we need to be able to assure clients only that our products comply. Leicester Glass either glaze to existing frames (which are exempt) or act as Subcontractors for new windows fitted by others. It will remain the responsibility of the primary contractor to acquire the necessary permission.
Document L is an important change to our industry. Leicester Glass Company Limited sees this as an opportunity to widen the gap between ourselves and our competitors. It is important to be clear how the regulations will affect your business.
If we can supply any further information please email or contact us.
Click to return to technical index

Safety Glazing Considerations - The Governments Approved Document N.
The Legislation
In 1981 BS 6206: 'Specification for Impact Performance Requirements for Flat Safety Glass and Safety Plastics for use in Buildings' was published. This outlined the criteria by which safety glazing materials are now measured.
Critical areas requiring safety glazing were first published as part of The Building Regulations England and Wales 1991 Part N 'Glazing - materials and protection'. This brought together safety glass, as defined in BS 6206 with key areas of building which require such glass. The Building Regulations are only concerned with glazing which forms part of building structures.
BS 6262: ' Code of practice for glazing buildings' Part 4: 1994 'Safety related to human impact' extended the cover of safety glazing beyond building structures. It set standards for other locations, in addition, such as shower screens, shower cubicles, mirror glazing for cupboards and wardrobes.
Safety Glass Options.
BS 6206 details impact tests utilising lead shot-filled leather bags weighing 45kg, dropped like a pendulum from different heights.
There are three safety glazing classifications: A (the highest), B, and C (the lowest).
Toughened Glass: All the toughened glass Leicester Glass Company Limited offer has a Class A classification.
Laminated Safety Glass: We offer three types of laminate products: PVB (poyvinylbutyral), CIP (cast-in-place) and Polyester resin interlayered. These normally achieve at least a Class B classification dependent on glass and interlayer thickness.
Wired Glass: 'Safety wired' typically have thicker wires implanted within their structure or a CIP laminate interlayer and obtain a Class C classification.
Polycarbonate: Leicester Glass Company Limited only offer Lexan which is the brand name of the Polycarbonate manufactured by General Electrics. It carries a Class A Classification.
Glasses meeting the requirements and intended for use as safety glasses must be permanently marked as conforming to BS 6202.
The regulations specify areas of glazing which the authorities deem to be 'Critical'. These locations are depicted below: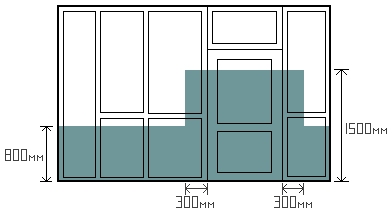 The following locations should be regarded as critical and thus should be glazed only with a safety glass to BS 6206:
a) Between finished floor level and 800mm above it.
b) Between finished floor level and 1500mm above if in doors or side panels within 300mm of the edge of a door.
Exceptions
a) An aperture with a smaller dimension being less that 250mm and of total area less that 0.5sq/mt may be glazed with a glass of minimum (nominal) thickness of 6mm which does not comply with BS 6206.
b) An aperture forming parts of fronts to shops, showrooms, offices, factories and public buildings, which are supported on all edges, may be glazed with a glass of equivalent robustness but which does not comply with BS 6206. Thus:
8mm must not exceed 1100 x 1100mm, 10mm must not exceed 2250 x 2250mm, 12mm must not exceed 3000 x 4500mm, 15mm and thicker has no limit.
c) Panes protected by a suitable barrier.
Click to return to technical index
Insulating Glass Unit testing to meet European standard
The impending ratification of the outstanding parts of EN 1279 'Glass In Building - Insulated Glass Units' will allow manufacturers to demonstrate compliance with the Construction Products Directive (CPD) and achieve CE Marking of Insulating Glass Units (IGUs).
CE Marking is the easiest way to demonstrate compliance and will be a requirement for many EU countries. Although the UK does not currently require CE Marking, compliance with the CPD will be mandatory and IGUs will need to have passed EN 1279 to fulfil the requirements.
Currently in the UK there is no legislative requirement to test IGUs, although almost invariably buyers will expect a demonstration of performance, traditionally through BS 5713 -Specification for hermetically sealed flat double glazing units. BS 5713 will ultimately be superseded by EN 1279, which is already being tested against and is perceived to be a more onerous method of proving IGU performance.
The six-part standard refers to factory quality management, CE Marking requirements, production and component tolerances as well as test evidence. Testing is designed to prove the performance of the sealed unit under an accelerated ageing regime of temperature, moisture and light conditions to represent service life. It considers moisture penetration and emission of volatile gases against accepted levels of performance in relation to minimising condensation or fogging within the unit.
Leicester Glass has, for some years, held a Kitemark licence with The British Standards Institute (BSI). We have had our units tested and we hold certification from BSI confirming that they passed the more stringent EN 1279 requirements.
Click to return to technical index
119-125 Bridge Road, Leicester LE5 3QP T: 0800 1694357 F: 0116 2460462 E: enquiries@leicesterglass.co.uk