Our Range Of Glass Products Include:
Clear Float Glass
Leicester Glass stocks, cuts and processes a large selection of float glass products. The name 'Float Glass' derives from the manufacturing process (See our Technical Advise Page for more detail).
We stock 2mm Clear Float Glass, essentially for the picture frame market.
For glazing uses we stock 3mm, 4mm, 6mm, 8mm and 10mm Clear Float Glass.
We also have some stocks of 5mm, 12mm, 19mm and 25mm Clear Float Glass which are generally used for the more specialist applications.
Horticultural Glass
Horticultural glass is generally less optically clear than float glass, being manufactured by the rolled process (See our Technical Advise Page for more detail).
Leicester Glass offer the three sheet sizes:
24" x 18" (457 x 610mm)

24" x 24" (610 x 610mm)

28 3/4" x 56" (730mm x 1422 mm) Commonly referred to as a Dutch Light
Horticultural glass is sold in complete sheets only, but we are happy to cut to your sizes.
Patterned Glass
Patterned glass is manufactured using the rolled process (See our Technical Advise Page for more detail). Tradesman often referred to the patterned glasses as 'figured', and each manufacturer has their own suite of patterns.
Leicester Glass, like all traditional English glass merchants, have historically stocked the patterned glass range manufactured by Pilkington. Over the years Pilkington have introduced new patterns and discontinued others to follow trends and in particular more recently to facilitate ease of processing - especially toughening.
Leicester Glass now stocks all the current patterned glasses available from Pilkington in the UK. Additionally we have endeavored to maintain stocks of many of the older, discontinued patterns. We are a calling point for other merchants in search of a pane of patterned glass out of production.
Below is a list of the patterned glasses available from our stocks as I type. You are advised that our stocks regularly change and so you should always confirm availability with our office. The 'Obscuration' rating is provided by Pilkington on their more recent patterns - 1 being the least obscure. Many of the patterns below have links to pictorial representations of themselves, please feel free to explore by clicking the name you desire.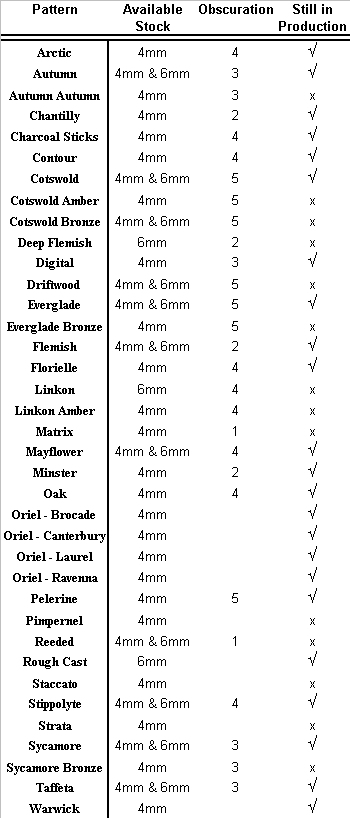 Safety Glass
The term 'safety' is applied to glazing used to reduce the risk of accident by impact, fracture, shattering, or in a fire.
Since 1981, when BS 6206 was published, there have been formal guidelines which clearly outline critical glazing locations and specifies which glass types can and can't be used in these critical locations. There are three safety glazing classifications: A (the highest), B, and C (the lowest). Details of the Glass and Glazing regulations in the UK can be found on our technical page, follow the link to safety glazing.
Below are the basic options for safety glazing that Leicester Glass can offer:
Toughened Glass: Toughened glass is manufactured by subjecting final size, edgeworked panes of glass to a heating and cooling treatment whereby high compressive stresses are set up at the surfaces with balancing tensile stresses in the canter. The high compressive surface stresses give the toughened its increased strength. It can, however break under extreme loads, which bend the glass, or by severe impact with a sharp object.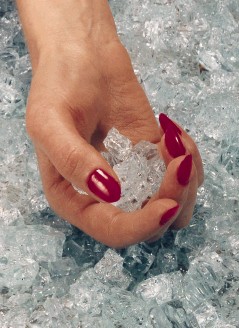 Toughened glass can be 'heat soaked' to provide a higher quality level, making the pane much less susceptible to fracture from nickel sulphide inclusions. The risk of breakage from nickel sulphide inclusions in heat soaked toughened glass is less than 1 in 100,000kg.
In general toughened glass is up to five times stronger than the equivalent annealed panes, but this is to some extent dependent on glass type and thickness. Toughened glass can withstand temperatures ranging from 280°C down to -70°C without affecting their performance and unlike annealed glass, withstand sudden shock temperatures of approximately 200°C.
When broken, toughened glass disintegrates into small relatively harmless pieces which are neither large enough or sharp enough to cause serious injury. The toughened process does not increase the resistance of the surface to scratching.
Any work on toughened glass will affect its properties and may result in breakage. Therefore, all work on the glass must be done before toughening.
All the toughened glass Leicester Glass Company Limited offer has a Class A classification.
Laminated Safety Glass: Laminated glass is produced by combining two or more sheets of glass with one or more plastic interlayers. There are two types of interlopers used: Polyvinylbutyral (PVB) interlayer is applied with heat and pressure in factory controlled conditions, Cast-In-Place (CIP) interlayer is manufactured in house by means of pouring a resin between two panes of glass spaced apart at the edges - the resin is subsequently cured.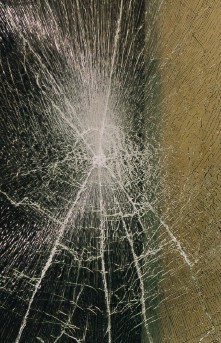 The PVB and CIP interlayers ensure the integrity of the glass (by holding the broken pieces in place) should damage, ,accident or otherwise, occur. Laminate glass normally achieve at least a Class B classification dependent on glass and interlayer thickness.
Laminated glass eliminates the vast majority of UV radiation below 380nm.
We stock, cut and process clear: 4.4mm, ,5.4mm, 6.4mm, ,8.8mm and 10.8mm Laminated.
Our CIP laminated is available on a 24 hour turnaround. The normal use for this is to more quickly supply obscure panels of safety glass. Our CIP laminated glass can also been used in more decorative projects incorporating combinations of tinted interlayers, mirrors and crazed toughened leaf.
Wired Glass: Leicester Glass have stocked Pyroshield (Georgian Wired) glass for many years. Wired glass is essentially manufactured to meet fire requirements (click to see our section on fire resistant glasses), although it is also used for decorative purposes and more recently the safety versions have been added to the collection.
Pyroshield Obscure Safety (formerly Georgian Wired Cast Safety - GWC safety) is manufactured by Pilkington using the rolled process (See our Technical Advise Page for more detail). It has thicker wires implanted within its structure which ensures the integrity of the glass (by holding the broken pieces in place) should damage, accident or otherwise, occur and thus obtain a Class C classification. Pyroshield Obscure safety is nominally 7mm thick.
Pyroshield Clear Safety (formerly Georgian Wired Polished Plate Safety - GWPP safety) is manufactured by polishing both surfaces of the 'Cast' product to give a more transparent effect. Pyroshield Clear Safety is nominally 6mm thick.
Leicester Glass also stock Northern Wired Laminated. This is essentially a CIP laminate product, factory produced by sealing wire mesh between tow panes of float glass and pouring a resin into the cavity - the resin is subsequently cured. The wires and interlayer maintain the integrity of a pane once broken and achieve a class C safety rating. Northern Wired is nominally 7.5mm thick.
Polycarbonate: Leicester Glass stock Lexan which is the brand name of the Polycarbonate manufactured by General Electrics. It is a solid extruded plastic product, with a high level of mechanical, optical, thermal and electrical properties. It is almost impossible to break, resisting stone to hammer blows without shattering or splintering. It carries a Class A safety Classification.
We carry 2mm, 4mm, 6mm and 9mm in clear Lexan and 4mm and 6mm Obscure. Lexan, like all plastics, will not resist scratching.
Security Glass
The term 'security'' is applied to glazing which is not only safe, but also able to withstand deliberate attack of various kinds.
Specialist glasses can be combined with high performance glazing and framing systems to offer resistance to physical attack, armed attack and blasts.
The nature of these products mean that they are rarely stocked, being normally specified and manufactured to meet the needs of a particular project.
Leicester Glass do stock observation security products. Venetian mirror is available in 4mm and 6mm, and its alternating clear and mirrored lines allow clear vision one way only. We also carry limited stocks of one way observation mirror. Under specific lighting conditions this product can offer an effective means of providing undetected surveillance and high quality one-way vision to achieve complete privacy. In order to achieve complete privacy the ratio of illumination levels between the observed and the observers side must be 7:1 and it is advisable to wear dark clothing and have dark furnishings.
Tinted Glass
Leicester Glass stock, or can readily access supplies, of a range of 'body tinted' glasses including grey, bronze green and blue. Antisun is the Pilkington brand name for such products which have caller added throughout their body in initial manufacture.
Antisun is generally marketed for their solar control properties, which although vary with thickness are generally better than clear equivalents. Their reflectance is slightly less than clear float. Many of our clients request body tinted products to incorporate colour into their designs.
There are many 'coated' glasses which provide alternative tint effects to glass. Leicester Glass supply these, technical specifications are available on request.
Fire Resistant Glass
Leicester Glass offers many types of fire resistant glass each offering differing levels of fire and impact resistance. Below is a guide to those that we stock and some that are available to order. Fire glasses are used to aid escape from buildings and prevent fire spread whilst allowing designers to produce light and open spaces. There are two distinct characteristics that the different fire resistant glasses possess in differing levels:
Integrity. Is defined in BS 476: Part 20: 1987 as, "The ability of a specimen of a separating element to contain a fire to specified criteria of collapse, freedom from holes, cracks and fissures and sustained flaming on the unexposed face".
Insulation. Is defined in BS 476: Part 20: 1987 as, "The ability of a specimen of a separating element to restrict the temperature rise of the unexposed face to below specified levels". This requires, in a test, that the unexposed face rises on average by no more than 140ºC and in any position by no more than 180ºC.
Designated testing bodies grade each type of fire resistant glass against these two characteristics and provide specifiers with a time span over which each glass type has resisted fire when glazed in recorded glazing systems.

Fire Resistant Glass From Stock
Pilkington Pyroshield™
6mm Clear Wired (GWPP)
This has passed tests for integrity of 60 minutes in timber doors and 90 minutes in steel frames.
6mm Clear Wired Safety (GWPPS)
This glass has achieved a safety standard to BS 6206 class C. It has also passed tests for integrity of 60 minutes in timber doors and 120 minutes in steel frames.
7mm Textured (GWC)
This has passed tests for integrity of 60 minutes in timber doors and 90 minutes in steel frames. This glass is obscure.
7mm Textured Safety (GWCS)
This glass has achieved a safety standard to BS 6206 class C. It has also passed tests for integrity of 60 minutes in timber doors and 120 minutes in steel frames. This glass is obscure.
Pyroguard
7mm Clear (C7/30)
This product is a clear laminate without wires. It has a safety rating to BS 6206 class C and has achieved 30 minutes integrity.
7mm Wired ( Northern Wired)
This is a wired product but unlike Pyroshield its wires are carried within a central laminate interlayer. It carries a safety rating to BS 6206 class C and has achieved 30 minutes integrity.
A Selection of Other Fire Resistant Glasses available To Order.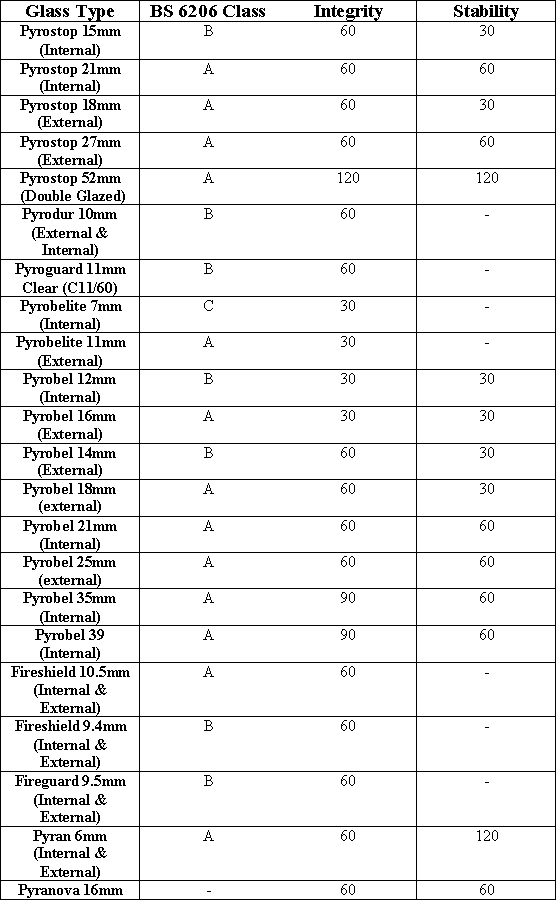 Acoustic Glass
Noise is unwanted sound and is everywhere, whether it originates from road traffic, railways, aircraft, factories, discos or merely from neighbors. It is a nuisance and may cause annoyance, impair work performance and, in the extreme, contribute to illness - both physical and psychological - a fact recognised and campaigned against by the World Health Organisation.
All windows provide a degree of noise control, but when noise is a particular problem needing to be addressed, the choice of glass is critical in providing an effective solution. The options that we can offer the designer include:
Special high performance acoustic laminates.
Laminated glass.
Insulating glass units incorporating combinations of the above.
Thicker Glass.

Low Emissivity Glass
Emissivity is the rate heat is radiated through an item. Low emissivity glasses have been developed to provide increased thermal insulation.
There are an ever increasing number of 'Low E' glasses on the market, especially since the building regulations were changed and document L was published (see our technical pages). At Leicester Glass we favor Pilkington K . This has a coating on the surface that faces into the air gap of the double glazing unit.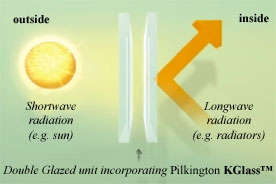 This microscopic coating on the pane of glass makes such a big difference to its performance by inhibiting the radiation of heat from within a room and instead, the heat is reflected back into the room by the coating. It works in a similar way to a sheet of reflecting foil placed behind a central heating radiator which bounces the heat back into the room.
Heat losses through different materials can be compared by the their "U values". The higher the U value, the greater the heat loss through the material. Ordinary glass has a U value of 2.8. Double glazing with Pilkington K Glass has a U value of only 1.9, considerably better than conventional double glazing, and as good as triple glazing.
Pilkington K is a 'hard' coated glass. Even lower U values can be achieved by incorporating 'soft' coated glasses. The technology surrounding soft coated glasses is still in its early stages. Few can be toughened, all are difficult to handle and so their overall cost is prohibitive at present.
Low Emissivity glasses, like Pilkington K, are designed to be used within double glazed units only.

Self Cleaning Glass
Leicester Glass is proud to be one of only a few glass merchants with a 'partnership agreement' allowing us to offer this exciting product directly to our clients.
Pilkington Activ™ is the worlds first self-cleaning glass. It uses a 'photocatalytic' process where by a coating on the outer face of the pane breaks down organic dirt when the natural light from the sun shines on it. To assist the washing away of loosened dirt, the coating is 'hydrophilic', so instead of forming droplets the water spreads evenly over the surface, and as it runs off takes the dirt with it. Compared with conventional glass, water also dries off very quickly and does not leave unsightly 'drying spots'.
The logo below links directly to the Pilkington Activ™ site, for more information.


UV Bonding
For Several years, Leicester Glass has been offering clients their 'in house' UV bonding service. We have manufactured glass tanks for museums, awards for the recent Bollywood Gala in London and bonded many obscure items to glass that clients found hard or impossible to adhere.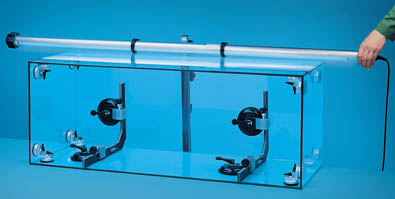 We can bond glass-to-glass as well as to wood or metal. The finished bond is crystal clear or highly transparent. The special advantage of these adhesives, apart from the quality of the finished bond, is their short curing times and high stability.
We offer different adhesives to meet a wide range of applications. Even for bonds that are thought very problematic or even impossible, we now have the solution, we is now even possible to successfully bond laminated glass.
For many glass objects, indispensable accessories are required, such as hinges, castor rollers, turntable bearings, etc. We have available an especially comprehensive range of accessories for glass furniture.

Showcases
Leicester Glass manufacture showcases for many applications. We can incorporate safety glass to ensure your finished product complies with all the relevant standards. All showcases are made to order and most reasonable designs can be catered for.



We either use a 'bolt together' system of assembly, this incorporates chrome fixings as shown above, or we bond cases together with our UV bonding system (see here for more details). The bolt together system offer greater flexibility in design and they can be easil altered, within design limitations, once manufactured. UV bonded showcases are very attractive but once manufactured they cannot be altered and they tend to cost considerably more.
Glass Sliding Doors
Leicester Glass offer a number of sliding glass door systems for either cabinet or hatch fitting. The systems can be specified in various sizes and finishes (Polished Chrome is available from stock). The system can accommodate glass from 6 - 10mm thick. Finger pulls/slots and draught excludes can be specified to complete the installation. We also carry various locking systems.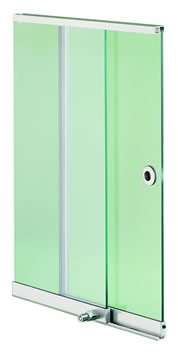 119-125 Bridge Road, Leicester LE5 3QPT: 0800 1694357 F: 0116 2460462 E: enquiries@leicesterglass.co.uk