Our range of Accessories Include:
Our range is large and ever increasing. We also carry Sashcord, MirrorFlex tiles, Timber Beading, Safety Equipment..........
Sealants
Multipurpose Putty
Butyl 66 Glazing Compound
Silicone
Fire Resistant Material
Acrylic Sealant


Multipurpose Putty
We stock a multipurpose putty manufactured by Hodgson Sealants. This is a high quality hand applied gazing compound. It is a Type O setting compound as defined in BS 6262: 1982 - Table 5 and conforms to BS 8000 Part 7.
Its uses include: Bedding and external fronting single glass into primed softwood and hardwood frames which will subsequently be painted, bedding and external fronting single glass into primed steel frames, external putty fronting and to glaze single glass into concrete or stone surrounds after prior sealing with an appropriate sealer. Note: Not suitable for internal fronting or when frame is to be stained and not to be used on double glazed units.
Multipurpose putty adheres well to primed softwood and hardwood. It sets initially by absorption of oil into the frame and loss of volatiles followed by reaction with oxygen in the presence of moisture. It must be painted as soon as the putty has formed a skin firm enough to accept the actions of overcoating. Apply the first coat within 7-21 days. The final coat should be applied within 28 days. It is designed to resist mould and have a predicted service life of ten years. Please note this product can cause staining of porous surfaces if not previously sealed.
We store our putties in cool dry conditions which provide a shelf life of approx. 3 months. It is common for some separation of oil to occur which should be mixed back into the putty before use. A skin forms after approximately 2-4 days outdoors, depending on ambient temperature and humidity. The putty has a working time of approximately 4 hours.
Application Instructions:
Remove all dust, grease and loose material from the rebate. Any moisture on the timber should be wiped off using a clean paper towel or other absorbent material to give a dry surface. Check the condition of the primer or stain on the frame, especially the rebate. Any section which has been partially missed or is considerably weathered should be reprimed before glazing. One coat of primer to BS5358: 1986 applied to new softwood will allow sufficient oil to be absorbed into the frame. Location blocks should be used in side hung opening windows to hold the glass in place. When using as a back bedding, apply to rebate. Push in glass and leave a thickness of 1.5mm - 2mm so as to achieve sufficient load bearing properties. Maximum fillet size to allow correct setting is 15mm high x 25mm wide. Do not reduce the fillet size below 8mm high x 25mm wide.
We offer a selection of useful tools and accessories including Glazing Blocks, Tooling Block, Flexistrip trimming knife, Curved trimming blades, Glass cleaner, Glazing shovel, High powered & standard skeleton guns.
We stock the following size tubs :25kg / 10kg / 5kg / 2kg / 1kg /0.5kg and two colors:- Brown & Natural. Depending on the thickness of the glass and depth of the rebate. 1 kg will glaze approximately 4 linear meters of single glass.
This product has no known hazards when used as recommended. Wash hands after use.
Butyl 66 Glazing Compound
This is a butyl rich hand applied non-setting glazing compound. It complies with BS 6262: 1982, clause 5.3.2.2.1 & Table 5. When used in accordance with Hodgson Sealants Glazing System B5 (Moisture Vapor Permeable Method) , the product complies with the following industry standards:- BS 8000 Reference 3.4.1.4, GGF Manual Section 4.2 Reference IG 4, NHBC Chapter 6.7 Clauses D7 & M7 and Zurich New Build Guarantee Ref 2.58.
Its recommended uses include as part of a bead glazing system for installing sealed units into timber frames (Hodgson Sealants Glazing System B5), as a sole bedding compound for bead glazing of single glass into timber frames (Hodgson Sealants Glazing System B1)and it is suitable also for bedding glass into steel frames (Hodgson Sealants Glazing System B1 & B5). Please note it is not suitable for putty fronting and not suitable for use as the sole glazing compound for installing double glazed units.
It adheres well to timber and steel. It can be overpainted using solvent based paints after skin formation - typically between 7 - 21 days and has a predicted 10 years service life. Please note it can can cause staining of porous surfaces if not previously sealed by two coats of Timber Sealer. Skin forms after approximately 4 - 7 days dependent on thickness, ambient temperature and humidity and it has a working time of approximately 1 hour.
Application Instructions:
Remove all dust, grease and loose material from the rebate. Any moisture on the timber should be wiped off using a clean paper towel or other absorbent material to give a dry surface. Check the condition of any primer or stain on the frame, especially the rebate and glazing surfaces of the beads. Any section which has been partially missed or is considerably weathered should be reprimed or stained before glazing. The use of Timber Sealer is essential to assist proper performance of Butyl 66. Timber Sealer must be applied to all rebate surfaces and beads which will come into contact with Butyl 66. Coat these surfaces and allow to dry before glazing. Click here for more information and detailed instructions on Hodgson Glazing Method B5.
We stock Brown and Natural tubs in sizes:-25kg / 10kg / 5kg / 2kg / 1kg. As a guide 1kg will glaze approximately 4 linear meters of glass.
There are no known health hazards associated with Butyl 66 Glazing Compound when used as recommended. Wash hands immediately after use.

Silicone
We offer two types of silicone, construction grade and 25L a low modulus silicone. Our construction grade silicone is an acetoxy cure sealant that provides a permanently flexible weathertight rubber seal that adheres to many common building substrates. It cures quickly to reduce dirt pick up.
Our Low Modulus Neutral Curing Silicone, 25L, also adheres to both porous and non-porous substrates without the need for priming. It is non corrosive on metals and aluminium and is compatible with polycarbonate
Both conform to BS 5889.
Acceptable adhesion must be tested on specific applications but typical uses include: Glass to Glass and Glass to Aluminium weathersealing, Sealing and as an adhesive onto UPVC, Sanitary, bathroom and refrigeration areas, perimeter pointing around all types of window and door frames and parapet and roofline weather sealing applications.
Our silicones should not be used in conjunction with Bitumen, Asphalt or Lead. They have a shelf life of 12 months (25L) and 18 months (construction). Silicone is a potential irritant to eyes and skin, contact must be avoided if possible. Silicone can generate an allergic reaction in some people and Acetic Acid is evolved from construction silicone during curing so silicone should only be used in well ventilated environments.
Our Silicone is sold in 310ml tubes, which should cover approx. 10 lin. meters for a 9mm x 9mm fillet joint. We carry 25L in white, although many other colours are available to order. Our stock of Construction silicone includes white, clear, black, brown, bronze, grey and silver.
Fire Resistant Materials
Firestrip 30, 12mm x 3mm

Firestrip 30, 12mm x 3mm is fully tested and assessed in accordance with all the requirements of BS 476: Part 22: 1987 by the Warrington Fire Research Center and Certificated to the BWF Certifire Scheme No. 297. It can provide 30 minute resistance to the passage of fire and smoke when used to glaze a wide variety of glass types into internal fire rated doors and softwood or hardwood timber screens. It also allows the user to manufacture screens incorporating single panes of non-insulating glass of up to 3m2.
Firestrip 30 conforms to the following standards:
BS 476: Part 22: 1987 Test report WFRC 70068, BS 476: Part 22: 1987 Test report WFRC C82960, prEN 1634: Part 4:1998, BWF Certifire Fire Door and Doorset Scheme - Certificate No.297, Glass & Glazing Federation Glazing Manual Section 2.8 Fire Resistant Glazing No. 13 Table of Tested Products and Materials. 9.1.2 Glazing Materials - Strips and FIRAS register of specialist fire protection materials - manufacturers & suppliers

The performance of Firestrip 30 is dependent on the use of suitable fire resistant glass and a suitable frame design.
It has excellent adhesion to timber and glass, can be overpainted and has a predicted serviceable life of 20 years. The product has a shelf life of 12 months.
Application Instructions:
1. Secure one set of glazing beads to act as a rebate if opening not already rebated. Pins angled at 45o
2. Apply strip on the paper along the rebate upstand of the top rebate by running the edge of the backing paper along the rebate platform. For larger rebates it will be necessary to lift the paper above the platform to ensure that the strip comes up to the sight line. Pull the paper back by about 50mm from each end of strip. Repeat the application of strip to the side rebates followed by the bottom rebate. Butt corner joints, do not overlap. Remove backing paper.
3. Position setting blocks
4. Centralise glass in frame on setting blocks. Press firmly around the edge of the glass to ensure that contact with the entire surface of the strip is achieved.
5. Apply the strip to the edge of the glass in the same way as it was applied to the upstands by running the edge of the paper along the rebate platform. Remove the backing paper.
6. Bed the beads to the strip applying pressure to obtain good contact between the strip and the bead.
7. Pin the beads with fixings 50mm from each corner and no more than 150mm apart. Pins should be angled at 45o to pass beneath the glass.
8. Trim off any strip above the sight line with a sharp knife.
There are no known health hazards associated with Firestrip 30 when used as recommended. Wash hands immediately after use.
Acrylic Sealant (Decorators Caulk)
Acrylic decorators Caulk is a fast drying flexible decorators filler and sealant that remains permanently flexible. It can be overpainted with all kinds of paint and wallpaper. Painting can be carried out after the skin starts to form, normally about one hour, and no sanding is required.
It is the ideal sealant for filling cracks and gaps between two different substances prior to decoration. It can be used externally, ,in areas of high humidity and around baths, showers and wash basins. However it need to cure for a full six hours without moisture contact.
Our stock of 310ml tubes have a shelf life of approx. 3 years. A tube will cover approx. 10 lin meters for a 9mm x 9mm fillet joint. The product must be stored in dry, ,cool conditions and away from frost.
Acrylic Sealant is classed as a low hazard product. It must not be taken internally.
Glazing Fixings
We stock a comprehensive range of fixings for our own glazing teams. Many of these products we offer to trade and retail clients. These include:
Glazing Sprigs
Glazing Clips
Panel Pins
Push Point Fixings
Nylon Anchors
Greenhouse Clips (W & Z)

Mirror Fixings
We offer clients a comprehensive range of fixing methods for mirrors, the most common three are Gluing, screw fix and clips:
Glue Fix
We stock a one part, fast curing, adhesive which is designed to fix mirrors. The glue does not attack the backing of our mirrors and will adhere to a multitude of surfaces including metals, ,plastics, polyester, epoxy, painted and lacquered wood, glass etc.
Our installers prefer this fixing method as it offers the most secure fix, whilst presenting no unsightly lines to interrupt the reflection from the mirror. Should a glue fixed mirror get damaged and crack, this fixing method helps prevent cut hazards by leaving the potentially sharp pieces on the bonding surface. Further more, by applying our mirror fixing glue neatly to the extreme back edges of a mirror, the installer can seal the painted reverse face, thus preventing further ingress of moisture which would eventually cause the mirror to show black and fail.
Our mirror adhesive is a white finish, and we stock 290ml tubes. One tube would be sufficient to fix approx. 3 No. 1000 x 1000mm mirrors. The glue is of a low hazardous nature and should not be taken internally and kept away from children
Screw Fix
A more traditional fixing method, still employed today, involves drilling holes in mirrors and screwing through these holes to achieve a secure fix. The screw heads are decorated with caps.
We tend to advise clients to avoid this fixing method if possible. Whilst it is a tried and tested fixing method, we feel it has some disadvantages. Putting holes into glass of any type can make it weaker at that point. Placing a steel screw, harder than glass, through this potentially weak spot is then not ideal. Add to the equation a particularly uneven fixing surface and it is very easy for a break to occur following over tightening of the screw or contact with the mirror. Screw fixing does not have an inherent means of preventing broken shards of glass from creating a hazard.
We regularly drill mirrors for clients, and carry a large range of screws, caps and washers.
Clip Fix
We carry a selection of clips to fix mirrors.
Corner clips are available in Brass and Silver finishes. They are pinned onto a backing and clamp fix the mirror to that backing. We carry such corner clips to secure both 4 and 6mm mirrors.
Slide clips packs are also available from stock. These are in packs of four or six pieces each with two fixed bottom clips onto which a mirror rests and two or four sliding clips that secure the mirror back. The clips are screw fixed back with washers incorporated to protect the mirror back. We stock chromed metal clips and lighter weight but less obtrusive, clear plastic slide clips.
Clips are another traditional fixing method. Clients are advised that they must take care when combining glass and harder substances i.e. metals. Should a mirror become damaged, clips alone are not guaranteed to keep all broken fragments safely controlled.
DIY Lead
To compliment our Lead Studio, we also offer clients a range of DIY self-adhesive lead products. Our range includes brass effect and natural finishes and is complimented by a range of preprinted design transfers. Our DIY lead can be used both internally and externally and offer clients the opportunity to decorate any glass surface from glass screens, mirrors to doors and windows.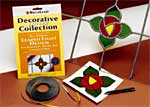 We offer small lead packs (10mt x 9mm or 6mm), which include boning tools and instructions. Our larger lead packs contain 50mt of lead and we offer a starter pack, which includes 25mt of 9mm lead, a boning peg, instructions and a design template.
Our self-adhesive lead range is aimed at beginners and those more experienced. Lead working is easy and enjoyable to do. Clients can generate desirable effects by being just as creative as they wish. The staff in our Lead Studio are available to offer advice and a demonstration can be arranged dependent on workloads.
Cleaning Fluids
Our fixing teams recommend cleaning fluids that they regularly use.
We stock a glass cleaner that is easy to use and removes most stains from all glass surfaces and does not leave smears. It is a 'spray on/wife off' cleaner in 660ml canisters.
We offer a UPVC clean cleaner. It is ideal for buffing up PVC and can also be used on vinyl, vitreous enamel, stainless steel, laminates and painted surfaces. The cream is applied with a damp cloth and worked in to remove a stain, rinsed with clean water, allowed to dry and then polished off to finish.
Glass Mounted Ventilators
We stock a wide range of quality glass mounted ventilators. They are commonly manufactured from UV stabilised translucent polystyrene, which resists discoloration. They are ultrasonically welded and assembled in clean room conditions.
There are two distinct types of ventilator on offer, Static and Rotary.
The Static ventilators are designed for use where continuous ventilation is mandatory. We offer a choice of round or square louvered models which are both ideal for rooms fitted with a gas or solid fuel appliance. They offer a continual supply of fresh air, which reduces the build up of harmful gases and aids fuel efficiency.
Rotary ventilators offer a diffusion of air into a room, which helps to reduce draughts whilst improving fresh air distribution into a room. We offer three basic sizes each with or without shutter control. There is even a double glazed option.
Glass mounted ventilators offer a potential cure for condensation problems, as well as offering a simple means of ventilation where no opening window is present. They can easily be fixed to existing panes of glass and do not compromise security.

Louver Window Systems
We continue to carry substantial stocks of 'Naco de luxe louver window systems'. These are aluminium / injection moulded plastic loose bar systems for self assembly into timber or metal sub-frame and need no specialist tools or fixings (a minimum width, clean . Each pack is supplied with fixing kit and instructions.
Our louver window systems are available in lengths up to 1140mm, from stock. Systems can be ordered longer or they can be joined. The standard 'blade' holders are made to take 6mm thick glass, ,at a maximum length of 1067mm. Glass blades are manufactured in-house to order.
Films
Film technology is one of the most innovative aspects of the glass market today. We offer supply only services to clients and can arrange for application of most films in-house or on-site.
In stock, we carry a safety backing film which has been tested and achieved a pass of class B & C to BS 6206. We use this to back mirrors in 'critical locations'. We only offer a supply and fix service for this film due to the nature of its packaging.
There are many types of Solar Films available. These commonly have a reflective quality to them and are available in many colours and tints. Solar control films tend to have a clear film backing which when removed exposes the bonding surface which needs moisture to be activated. We stock a common silver tinted solar film, others are available within a couple of working days. Solar control films are used to reduce glare, as a UV filter, to reflect heat and for decoration / privacy.
We carry a comprehensive range of decorative films. Available in 15mt roles, or by the linear meter, we have ten standard decorative films. They have a paper type backing which, once removed, exposes the bonding face. Simple to apply they offer a cost effective means of decorating / obscuring a pane of glass - especially useful on existing panes when they eliminate the need to reglaze.
We also offer safety / security films. These are normally clear films, available in differing thickness to offer different security levels. Once applied they can bring the safety standard of a pane up to BS 6202 without the need for reglazing.
Glass and Glazing Tools
We stock a large array of tools for the Glass and Glazing trade. Our tools have all been approved for quality by our own staff and we only offer 'professional' tools.
We carry a good selection of glass cutters. These include single and six 'steel' wheeled cutter - aimed at the DIY enthusiast, 'carbide' wheeled cutters - for the professional and specialist cutters e.g. for cutting circles.

We offer a comprehensive range of essential tools, hammers, chisels, screwdrivers, saws etc. All of which are only the finest quality.
More specific glazing tools in stock include an assortment of hacking knifes, putty knifes and skeleton guns. We are a professional organisation and do not associate ourselves with any products that we do not consider to be of sufficiently high quality.
119-125 Bridge Road, Leicester LE5 3QPT: 0800 1694357 F: 0116 2460462 E: enquiries@leicesterglass.co.uk